Triumph Test Ride
By Al Prosser.
Most of the photos have a higher resolution available if you click on them, and I have the full uncropped versions if someone is interested. Look at my Photo Notes for technical information on the photos.
A while back, I heard of a motorcycle shop that carried a lot of old British bikes called Baxter Cycle, in Marne, Iowa (http://www.baxtercycle.com). I check their website once in a while to see what old bikes are going for. I knew that they had some event in the summer, so was happy to see their ad in the Des Moines Register about their Open House, August 16 and 17, 2008. I called for information and found that Triumph would be there with some bikes for test riding, and there would also be a Rally on Sunday. I did not think I could manage to go both days, so decided to go on Sunday.
Sign up
I arrived at about 9:15AM, went to sign-up, and found that they were already booked for a while. I test drove a Rocket III Classic the year before, and thought about trying a Tiger, but wanted to be sure that I got to try a Sprint ST. The next chance was going to be 10:30 AM, so I signed up. Triumph was obviously taking safety very seriously, requiring full coverage down to gloves. They had some equipment to loan for those who rode up without all the stuff. I remembered boots, jeans, jacket and helmet, but forgot my gloves at home. I got to borrow a pair for the test rides.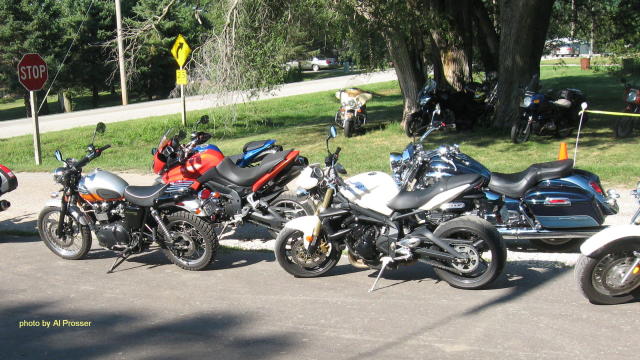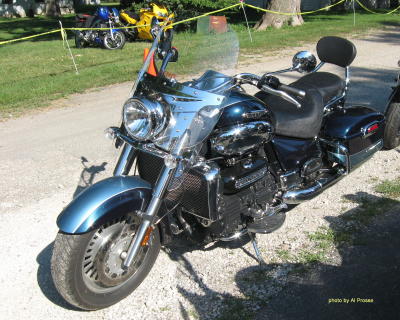 While waiting for my turn I went to the showroom and looked around for a while.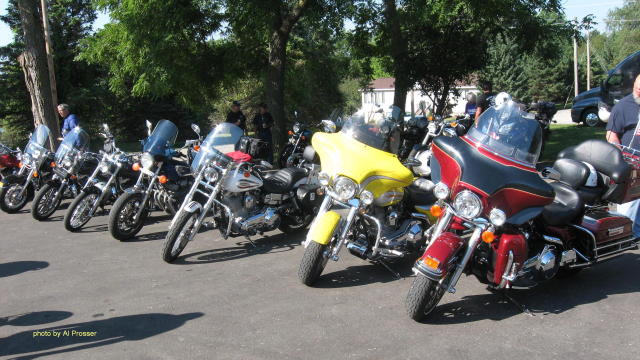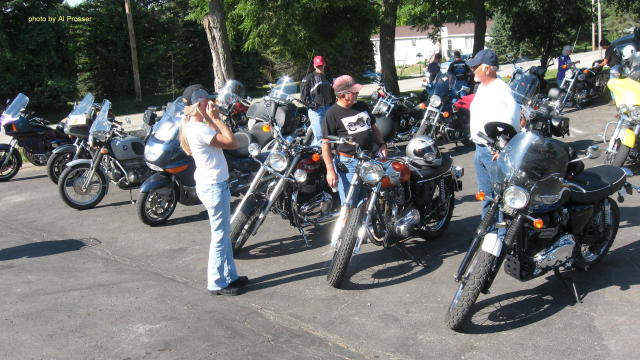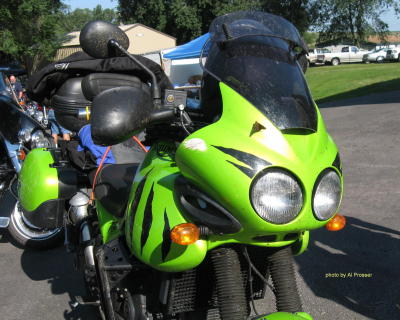 I came back in time to watch the group before me take off. They had two groups of bikes, would go on a 20 minute ride, then meanwhile orient the next group for their turn. David Fields from Triumph would give what seemed like a 5 minute lecture on where everyone would go, and all the do's and don'ts – mostly don'ts. No wheelies, stoppies, passing, slowing to speed up and so on. In other words, test ride the bikes, but be safe and don't have toooo much fun. Also reminding us that if we broke the rules and ran into law enforcement, we were responsible for our actions, and what to do if we had a problem. It really was given in a light hearted but serious manner. I did not mind as long as I got to ride.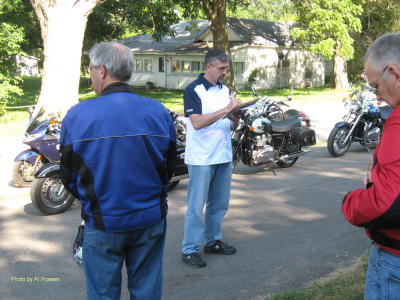 Sprint ST
My first test ride of the day was a dark blue Sprint ST 1050. It had a sporting layout, with forward handlebars, rearset pegs, a full sport fairing. I sat on it, adjusted the mirrors, and got adjusted to the controls. The last few bikes I rode were cruisers, so this was a bit different. I used to ride cafe racers in the old days so it was ok for me. When it was time to fire it up, it cranked up right away, a smooth, crisp sound as I blipped the throttle and the revs quickly rose and fell. It is hard for me to describe the sound of a high performance triple to someone who has not heard one. The triple under seat exhaust was pleasant, but muted. Ah, the 21st Century noise regulations. I would just as soon have quiet anyway.
Once underway, we crept through sleepy Marne, Iowa. Up to the corner, turn right, through the small business district and out of town. There was a stop and left turn then we sped off on the way to Atlantic, 7 miles away. It was a beautiful sunny day, still cool enough to feel comfortable with a light jacket. The Sprint felt really smooth, with adequate power. It hinted that the real power was farther up in the RPM range than I would be able to explore that day. It was very stable at the pace we were going, and the seat was fine for the short distance. Back in the 1970's when I was building Cafe Racers we would have loved a bike like this.
When we got back, I was asked about how I liked the Sprint? It seemed to me like a nice bike, but the handlebars were a bit too angled down for me. They are special for this bike, so cannot be adjusted to my liking. I heard that some replacements might be available but someone suggested that I might try a Tiger. It has a similar motor, but more upright riding position and more conventional handlebars.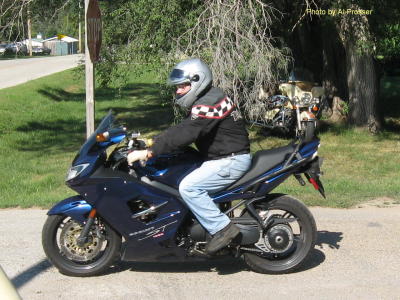 Rally
After the Sprint, I went to sign up for another ride, and the next available was a Rocket III Touring Edition. I talked more with another test rider, who owns a couple Tigers, and decided to try to get a ride on one of those instead. We were supposed to limit our rides to two for the day so that everyone could get a chance who wanted one, so I decided to try a switch to a Tiger. The wait for the Tiger was over two hours, until 1:30 PM. I decided to go to the Rally and get some free lunch while I waited.
The Rally was in a park, several blocks from Baxter Cycle. There were bikes parked all around the dealer, but also quite a few down at the park. I am sure the population of Marne was multiplied several times for the day. There was a bike show, so I looked at some of the bikes before getting in line for the free lunch of really good baked beans, hot dogs, and lemonade. There was a strange sound in the background all the time, a sort of Bang, whir whir whir Bang... It was some kind of John Deere green contraption that was some kind of engine driving a bunch of pulleys to run an ice cream maker. I bought a very good ice cream for dessert.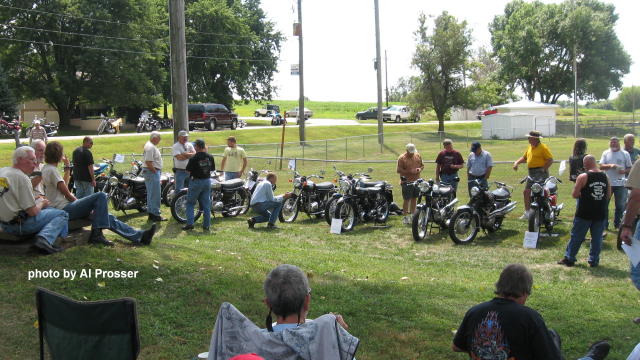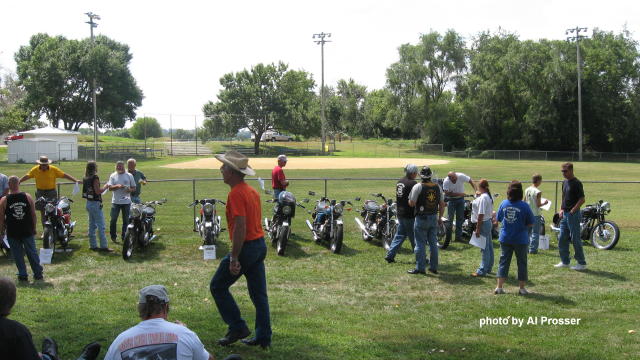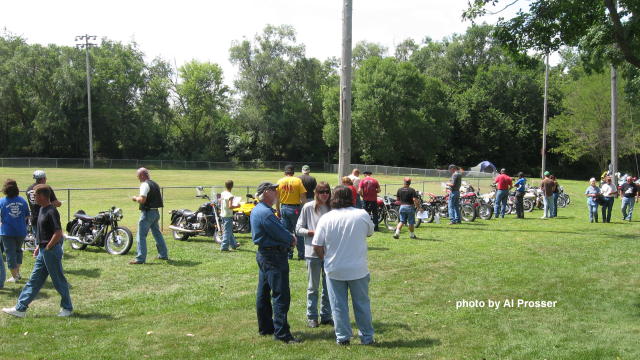 I did not hang around for all the activities, but did take some pictures and voted for best bikes in the categories. There were quite a few old Triumphs. Most notable to me were the 1942 former military bike, the 1966 T100 "Jack Pine", and some radical hillclimbers. There were a couple old BSAs and Nortons. I took pictures of a BSA scrambler that looked pretty cool, and the custom Norton with the chrome tank. If I was to own one, It would be the Jack Pine, but I thought the best bike was the 1939 AJS. Many new bikes in the showroom are not that clean.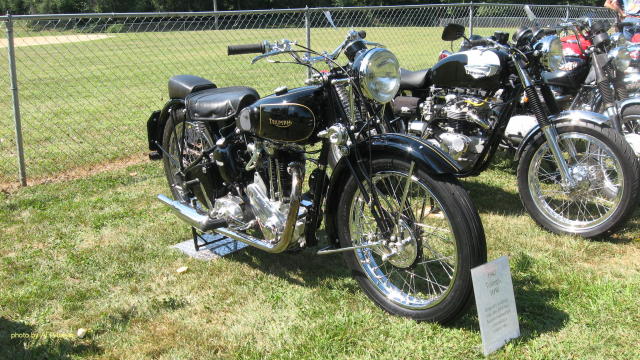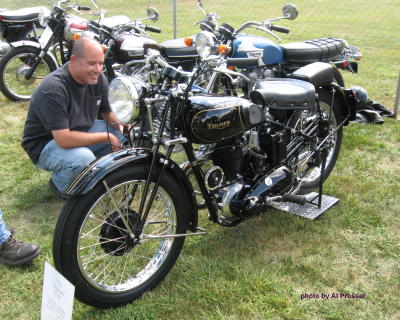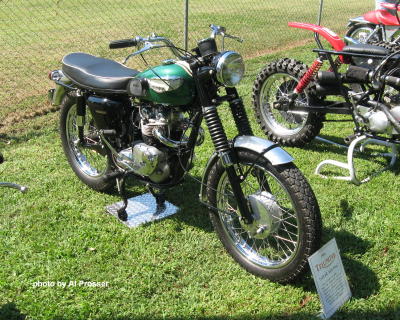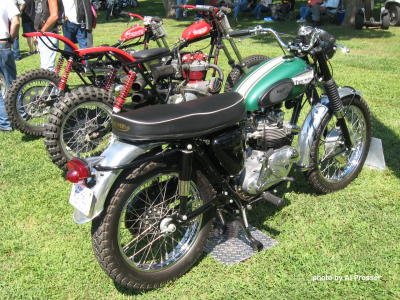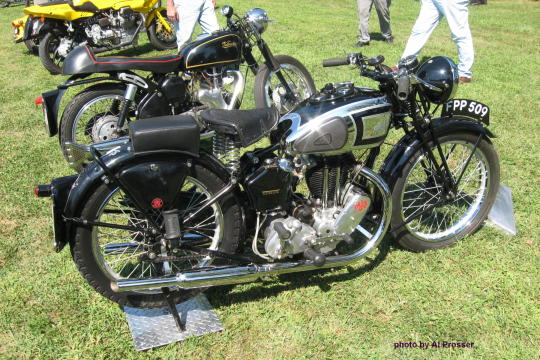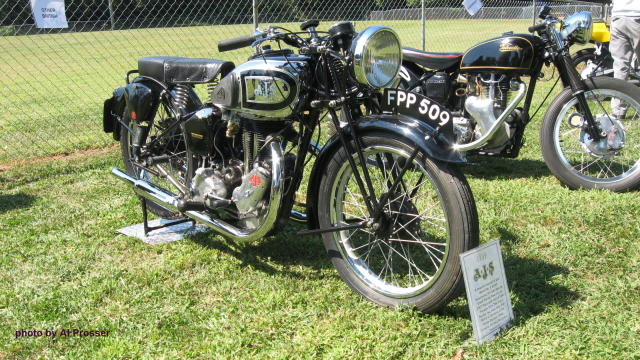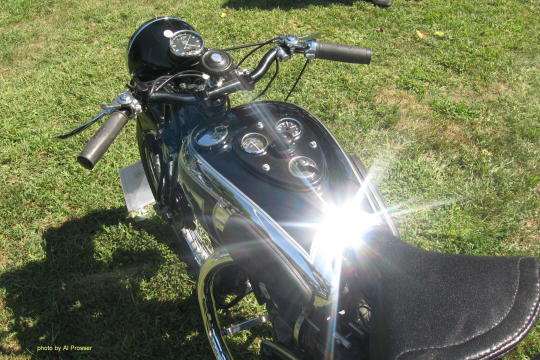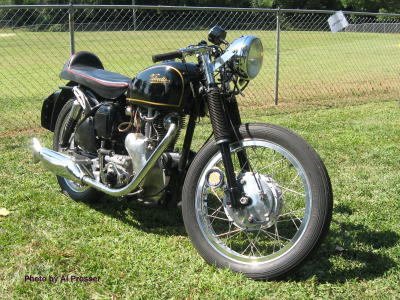 Tiger
I got back to the test ride in plenty of time to check out the Tiger before I rode it. It was white, and had a travel trunk, but with the saddlebags off. The 32.8" seat height is not a big issue for me, as most bikes I have owned were dirt bikes and had higher seats. Someone told me they could lower it, but I did not think I would need to. We will need to see how it is with a passenger sometime. The bars were much better for me than the Sprint's. The long travel suspension gave a little when I got onboard, promising to soak up the little bumps that I could feel on the Sprint. I pushed the start and it purred to life. The big single exhaust sounded different from the triple set on the Sprint, but I could not describe how.
We took off on the same route as before, and this bike was very smooth and easy to manage, its height not an issue once underway. It may have been my imagination, but it seemed to pull a bit harder sooner than the Sprint. We did not really have much chance to wring it out though, so it felt natural to short shift and let it pull smoothly along. I did keep looking for a higher gear, though it was not making too much noise and did not vibrate. It was still only about halfway to the redline at 70. The seat and ergonomics were very good, it felt like an old friend right away.
When I got back, the guy from Triumph and several other customers asked me what I thought. I said I liked it a lot, and was glad I tried it. I said it was smooth, had good power, felt like it pulled earlier than the Sprint, and was very comfortable. One of the other customer's told me he had two Tigers. The older version was a bit more off-road oriented. I will need to be able to use a bike as a commuter to justify it, and I have a couple tests. I need to be able to carry at least one full face helmet, preferably two, or a laptop in a case. We checked out the back case. It looks like it would be a tight fit for a single full face helmet like I always use, so I would probably skip that option and get a bigger case from Givi or somewhere. If I did that, I might just get the whole saddlebag and set from there. I can get a Tiger without saddlebags so not a problem. Too bad the back case was not an inch deeper, though.
As we were looking the bike over some more, the other Tiger rider said it looked like this one had an accessory gel seat. It was comfortable, whatever it was. I think the Tiger seems like a very good all around bike.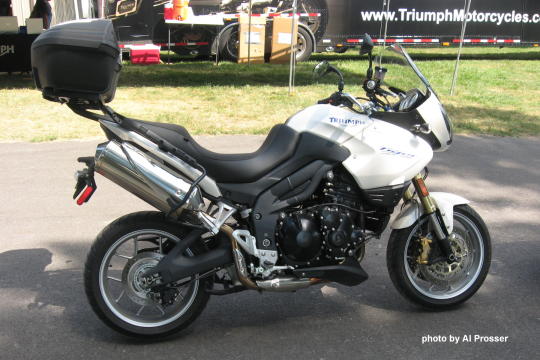 Rocket III Touring
I just kept hanging around, asking other riders how they like their test rides, and later in the afternoon, I heard them say that they did not have all the bikes booked for the next ride. I asked if I could go again and they said the black and white Rocket III Touring was available. I ran over to my car and picked up my helmet and jacket, then borrowed the gloves again. I got to the bike just in time to get on before we left.
The Rocket III is almost twice the weight, has a 2300cc motor more than twice the size of the Tiger's 1050cc, but a lower seat height. I sat in the low, wide seat, put up the side stand, turned the key, pulled in the clutch and brake, and hit the start button. The engine purred to life, smooth, but with a deeper voice than the previous Tiger. The windshields were quick change, and there were several Rockets on hand with various heights, so they were changing to suit test rider preferences. I think I got a standard size.
The low center of gravity on the Touring edition made it easy to maneuver out on our way, much easier than the Classic I rode the year before. We pulled out to ride the now familiar route. Through town, the bike felt very steady and smooth. It seemed like it would be more comfortable for a passenger. The saddlebags did not pass my test, but I understand that Corbin sells a 71 litre case for the back that carries two helmets.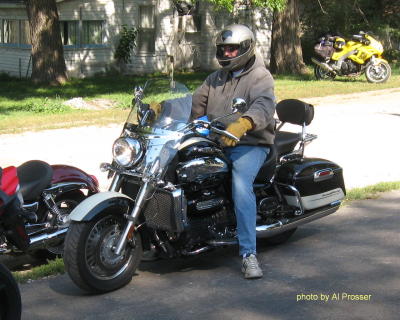 Conclusions
I am very grateful to Triumph for putting out the effort to get people on their bikes. I liked the Tiger and Rocket III, but would need accessory travel trunks. I did not get to ride a Bonneville yet, but it seems like it would be a good around town bike. There was a 2009 SE in the showroom that really looked good.
Back to Al's Home page
Back to Al's Motorcycle page
© Alan Prosser 2008. Commercial use of anything copied from here requires written permission.
E-mail
Comments to alprosser19@yahoo.com