Victory Test Ride
Most of the photos have a higher resolution available if you click on them, and I have the full uncropped versions if someone is interested. Look at my Photo Notes for technical information on the photos.
I have been missing motorcycle riding since not long after I got married. I started riding at age 13, racing at 15, was a mechanic for several years after high school, then raced again for several years after University. When I got married, I reluctantly put it aside, for economic reasons.
Several years ago, I noticed that Polaris came out with a line of motorcycle called Victory. At first, it was just a cruiser or two, not my first choice for type of bike. Gradually, they came out with some models that offered what was reported by magazines to be reasonable handling to go with the powerful V twin motors. A year or two ago, they came out with a "touring" version of one of their models, the Kingpin. That finally led me to find the dealer and to go sit on one in October 2006. I thought it might be a model to consider someday.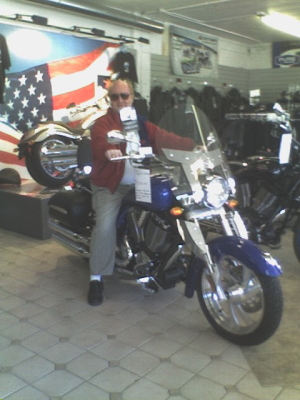 Some time later, Victory came out with a more serious touring line called the Vision. The Vision looks like no other bike, and riding something different from everyone else is something that many motorcyclists prefer. Most will spend many dollars personalizing their bikes.
I went back to the shop a couple times to see the new model before they were released. I got on their email list, picked up a brochure, put pictures up as wallpaper on my computer. I also looked at other bikes.
Earlier this winter, I noticed that Victory was doing some "test rides" around the country. At first, they were in other parts of the country, but early in July, I saw that they were coming to Iowa, at the race track not far from where I live. They were to have test rides for several hours Friday afternoon and evening in the area near the track and Saturday ON the track. Something told me I needed to be there.
My old helmets are way too old to use, but I don't really feel comfortable with the shorty helmets that dealers tend to have as loaners. I decided that since I intend to buy another motorcycle, I would start thinking as if I already have it, and did some shopping for a helmet. One of the stops I made was at the Victory dealer. I tried sitting on a Vision in the showroom, but it felt a little big. It has a fairly low center of gravity, and the magazine reviews have said that once moving, it was easy enough to handle for such a large (850 lbs dry) bike. I also tried sitting on the Kingpin Tour and it seemed a bit easier.
Anyway, I ended up finding a helmet, and took a day of vacation.
The Ride
I drove up to Iowa Speedway at just after 1 PM. There was hardly anyone around, the guy at the gate, the semi used to carry the bikes, 6-10 Victory workers, and almost a dozen test riders. There was also a semi with some custom trikes and a couple guys. The weather was perfect, upper 80 degrees, a cloudless sky, very brisk breeze. I arrived just as the first group of riders were preparing to take off.
While the first set of riders were gone, I filled out the release forms, showed my license with the motorcycle endorsement, put on my day-glo green wristband, and got my helmet from the van. Although I have a lot of experience, it had been almost 11 years since I owned a bike, and I only rode other people bikes a few times since. For some reason, I did not feel nervous, just a calmness with a touch of anticipation. I knew I had several hours, we would have relaxed rides through the countryside, and compared to the off road racing I did in my younger days there was absolutely no pressure. I tried sitting on a couple of the bikes on display, in particular the Kingpin Tour like the one I saw a year and a half earlier and at the shop the previous week.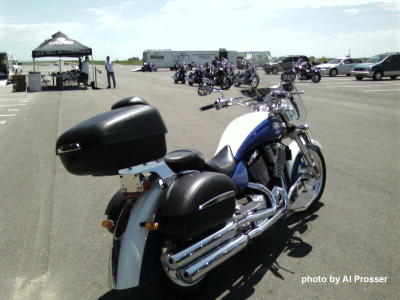 Vision Tour
The first group of riders came back, and it was time to choose my ride. I decided that if I could only ride one bike, I wanted to know how hard to handle the big one, the Vision Tour, would be. Almost half a ton of black, silver and chrome, more buttons and gadgets than any bike I rode before. Radio buttons, volume up and down, cruise, and who knows what. One hundred six cubic inches of V-twin. I tried the back seat, imagining how my wife would feel on it, with a wide deep saddle and back supported by the travel trunk. Finally, it was time to start.
Helmet on, key on, start button pushed, the deep rumble coming from below and behind. I was next to last in the group, keeping feet down as I eased around the parked bikes to follow the group out to the country roads. The bike, while big, was easy to handle, but I noticed some funny sound. Someone had left the radio on! There was no way I was going to find the control while going 50 mph on a winding road, so I left it alone.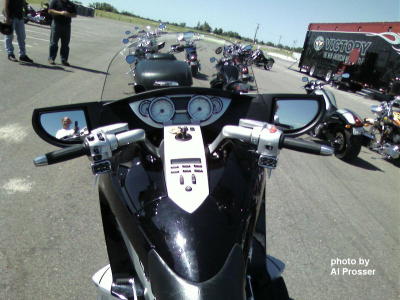 We were keeping a relaxed pace, so there was time to sort out where the shifter was (I am used to controls that are farther back), but with the wide powerband, there was really no hurry. With most of the riders on unfamiliar bikes, we rode easy, near the speed limits, giving us a chance to enjoy the sun and wind and fresh Iowa farmland. Our route took us through some sweeping turns, gentle hills with almost no traffic. We did get occasional chances to hold back then feel the acceleration to catch up. At a stop, I finally figured out how to mute the radio, and could hear a normal motorcycle.
The Vision has pretty fancy instruments. The expected speedo and tach, also a large LCD showing gear selection and some other numbers that I found on a later drive included instant MPG rating. After 5-10 minutes, I was feeling pretty comfortable. It was very windy out, but the crosswinds did not cause much trouble. I did realize a problem, though. I was wearing a T-shirt with a pocket, and my sunglasses were loose in that pocket, and my pocket was flapping about quite a bit. There was no way I could put them on without stopping, and I was too far back in the pack to get to stop very long when we got to stop signs. Luckily, the Vision has a windshield, and when I bent forward slightly my shirt did not flap too much. I was wondering how fast one would have to go to use 6th gear, and finally found that 70 MPH (the speed limit) was fine for the low end of the RPM range for overdrive cruising.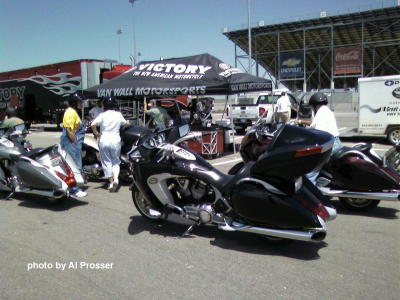 Countryside route
I later looked on Google Earth to map out where we went on our little countryside route. The satellite photos there are a little out of date, only showing what the Speedway site looked like before it was built. The corner of Rusty Wallace Drive from the freeway is at 41°40'39"N, 93°00'00"W. The speedway is just a bit East from there. When we came out of the Speedway Grandstand, we would turn left onto Rusty Wallace Drive. We went around the North side of the small airport, then turned South on Highway S74 at 41°40'53'N, 93°02'20"W. We took that through gentle rolling hills with bright green soybeans or corn waving in the wind. We had a gentle left and right bend. The yellow signs said 35 and 45 MPH but even going a little faster was pretty relaxed. I would hold back so I could roll on the throttle coming out of them. We then turned West on S 60th Avenue East (41°37'49"N, 93°02'16"W) toward the Newton Correctional facility. We had more of the gentle rolling hills past the prison until we had a right turn to Highway 14 South (going North) at 41°37'49"N, 93°04'56"W toward the interstate. The right turn to the entrance ramp to I80 is at 41°40'56"N, 93°04'36"W and has a left then right sweeper coming to an uphill entrance to the freeway. Lots of fun! Finally there was 4 miles of Interstate 80 and back to the exit for the speedway. In all it took somewhere between 20-25 minutes, I never timed exactly. Most of the time the only traffic we ran into was on the interstate or going a different direction.
Kingpin Tour
After returning from the first test ride, I found out that I could ride any of the bikes as often as I wished. I was very impressed, because test rides I have had in the past from other manufacturers only allowed one ride. Remembering sitting on the Kingpin Tour at the shop, I decided to see how it compared. This bike was the one that got me into the Victory dealer in the first place, since when I get a bike, I will need to be able to carry some stuff around, in particular an extra helmet or a laptop. I have taken a cross country trip with a bike that did not have enough storage, and told myself that next time I would get something more appropriate.
I put a leg over the two tone brown Kingpin, and noticed right off that it felt a little more nimble than the 100 pound heaver Vision, if you can call a 750 pound motorcycle nimble. With the low center of gravity, it was not a big deal, and after all, it had a windshield, bags and a trunk. It also had floorboards, though smaller than the ones on the Vision, and a heel toe shifter. The lighter feel continued as we took off. The power and handling were great, but I found the exhaust a little loud, particularly when I opened it up. There were fewer distractions than the Vision as well, with only a speedo and a couple indicator lights. I found myself just shifting when it felt right, rather than worrying about the tach. If I bought one I would get the upgraded instruments, though.
Kingpin
After asking why the Kingpin Tour was so loud, I found out that it had a Stage I slip on exhaust and air filter kit. At least the tuning was crisp. I wondered what a stock bike sounded like. I was directed to a regular Kingpin with no bags or shield but stock motor and pipes in black with white flames. With almost 75 pounds less stuff on it, this one was a little more nimble. It turned out to be a pretty fun bike for a brisk, but not too serious, ride around in the countryside. I think it would be great for someone who wants to just ride a motorcycle, without all the extra stuff. The sound was much more to my liking, I don't really want to turn heads when I turn on the gas. I suppose I could get a Kingpin Tour and take some of the extra stuff off, once in a while, just for around town... I did decide that I probably would like to get a bike with floorboards so I could move around, but found the heel part of the shifter intruded into my freedom of movement, so that would have to go. I liked the 2007 colors better too.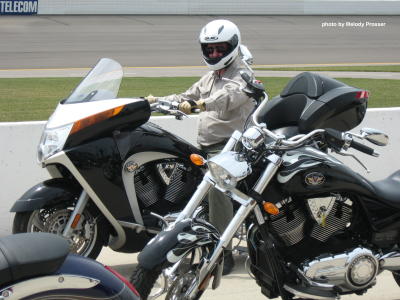 Jackpot
In between rides, I asked other riders what they thought, what kinds of bikes they had, and so on. One of them told me that he really liked the option of the really fat rear tire (240/40R18), found on the Jackpot and Hammers. I picked a Jackpot since they looked better for a passenger. I think this one had a different pipe as well, but I ignored that for purposes of the test. The steering was not as hard as I feared, but as I told our guide from Victory afterwards, you have to "lean it like you mean it". Another fun bike, but this one was definitely just around town, for me. I found the foot controls a bit too far forward, and there was too much pressure on my thighs to reach. It would not be good for someone with short legs like mine on a long trip, unless the controls could be moved.
Vision Street Premium
I happened to overhear someone talking with one of the Victory people, and found out that one of the Vision Street models was a Premium version, and had some extra equipment so I decided to try it. In particular, I wanted to try the adjustable windshield. With the standard Vision windshield, I had some protection for my chest, but had to lean forward a little to get it off my head and to keep my sunglasses from falling out of my T-shirt pocket. I found some more extras on the ride. It felt much like the Tour model, perhaps with slightly less vibration. It was very windy and I think the trunk on the tour model was catching a little, not much though. This one had some little wings attached to the lower fairing. I think they were adjusted wrong, because it felt a little warm. Afterwards, I was told by one of the Victory guys that they could be adjusted to direct more flow to the rider on hot days, or away from the rider on cold. They were aftermarket and prototype and I don't know if I would get them.
I played with the screen a bit, and when up all the way, it offered more protection, but was a little distorted. Rain would distort too, so if it were raining I would put it up. I ended up putting it down to where I would see over it a little, compromising between protection and visibility.
I noticed the button for the heaters, and accidentally turned them on low. The grips and seat began to get too hot so I played with it until I got it off.
When we were almost to the interstate, I noticed the fuel consumption gauge. It looked like it was in the 45 MPG range at steady state, going to 35 when gassing up a hill, and over 60 downhill, all at near the 70 MPH speed limit. Good if you want to be green, probably not good if you want to pay attention to the road. By the way, by this time, I was feeling very comfortable on this bike, doing a little slalom on the final access road back to the speedway. I felt ready to go to a motorcycle rodeo!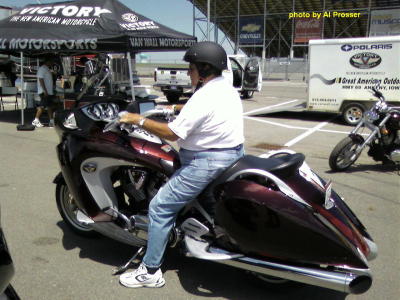 Summary, Day One
I started the day thinking I may get to ride one or two bikes, and that I may stay two hours at most. After three I called my wife and told her I would be late for supper! I should have put on my windbreaker after all. I have light red hair and freckles and my arms were several shades redder on the front than the back. My fingers had weird tan patterns. The first two fingers on each hand were more red than the others, due to my old dirt bike habit of keeping two fingers on the levers. My left had was more balanced, since the Victory clutch is more of a whole hand deal than my old ATK. They gave me a t-shirt, too!
I originally planned to go only on Friday, but the more I thought about it, I did have some spare time in the afternoon Saturday... I went to a writers club Saturday morning, so wrote about a page and a half of this story before I went, and asked my wife if she was interested in coming out in the afternoon? I have not been able to get her on a bike yet, so thought it would be a good chance to at least get her to sit on one and watch me ride, maybe take a picture of two. She agreed so after lunch we loaded the car and went.
The Ride Part II
Speedway.
We arrived at the Newton speedway at about 12:30 PM. It seemed deserted, and we had to drive around a little to find the tunnel on the East side to get inside, then almost drove onto the track finding where we should park. I signed the papers and got a new green wristband. This time, I wore a long sleeve shirt and since the weather was cloudy and mid 70s instead of high 80s that worked out perfect. My wife had never sat on a motorcycle, because when we got married I only had the ATK dirt bike and a non-running street bike. I talked her into trying the seat on a Victory Vision Tour. My daughter took pictures for proof!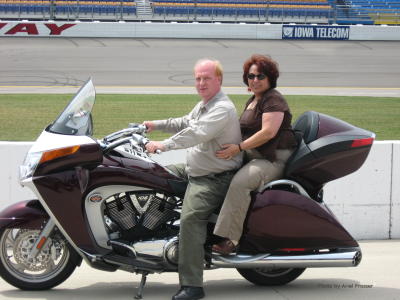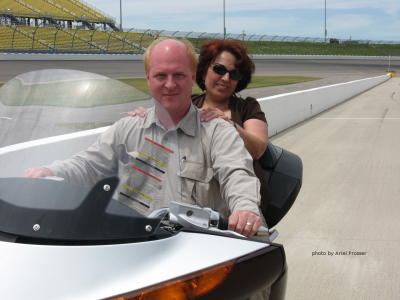 Vision Tour
The first ride of the day was on a Vision Tour. They were taking us out on the countryside tour followed by track time sometimes, but most often a few times around the track. I got to start on a countryside tour, so decided to try the radio this time, putting the hard rock station. When we got back to the tunnel to re-enter the track, I turned off the radio, the better to hear the thunder in the tunnel.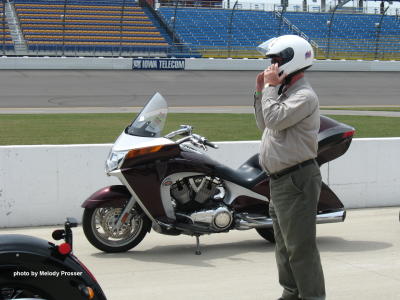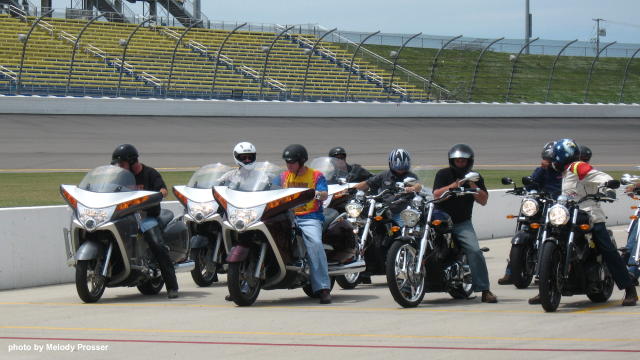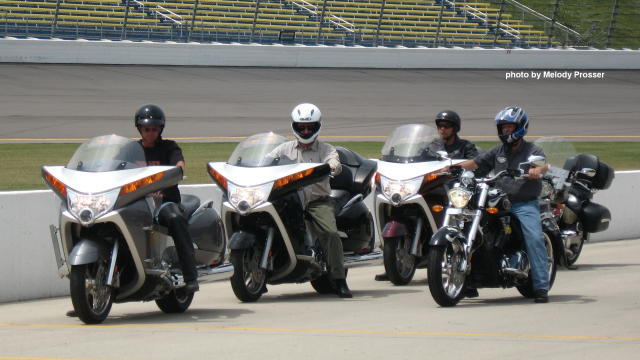 We went out on the track to take a couple laps around the tri-oval, then about three through the infield road course. Riding on the oval was fun, I pretty much stayed in the middle lane and at higher speeds than out on the interstate. I wanted to ride a bike on the road course since I heard they would have it, so it was with great anticipation that I followed the turn off the oval. I took it easy with the big bike, trying to eye the smoothest lines and getting used to leaning over more than I would on the street. The big Vision was pretty composed, easy to maneuver if I planned it out. Coming out of the infield, we hit the level front straight, going through the gears. I slowed a little before hitting the 12° bank at the end. It was a lot of fun, but I don't think a Vision is built for track days.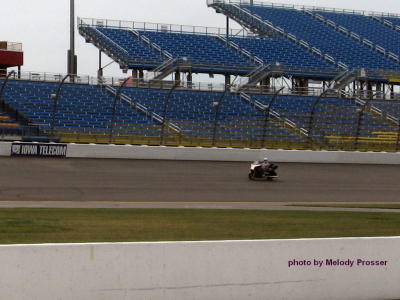 The Track
The Iowa Speedway (www.iowaspeedway.com) is a stock car track half an hour East of Des Moines, Iowa. The main feature of the track is the 7/8th mile tri-oval, with banking all around. Besides the tri-oval, there is a 1.3 mile road course on the infield. For the Victory Test Ride, they took us out the pit road out to the banked turn 1, and we took a couple times around the tri-oval before coming off just before turn 3 to a gradual left, a short straight, then a tight left, another short straight, a dogleg left followed quickly by a 90° right, short straight, another 90° right, a shorter straight, then about a 45° dogleg right with a medium straight to the hairpin left that takes you to either the front straight or pit road. At the end of the front straight, one has the option of turning level or hitting the banking abruptly or something in between. On the website there is a brochure about renting track time and it has a map of the infield course. The photos of the area on Google Earth were before the track was complete.
Jackpot
I tried a Jackpot next, with the fat rear tire. We just stayed on the track this time. It felt a little quicker, probably due to the 150 pound less weight. There were a couple slow riders just behind the lead, so I passed them high on the embankment so as not to freak them out. On the infield, I braked harder and downshifted coming into the hairpins, with an occasional hop on the downshift or the sharp transition to the banking at the end of the front straight. On one of the laps, I touched a peg on the infield track, the only time all weekend. It is good to find the limits in a controlled environment, all I did was back off and swing wide, then got going again. With the wide rear tire, it was lean it like you mean it to get it to turn, though in a fun way.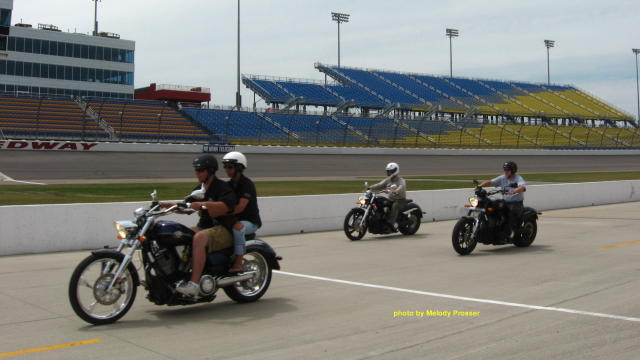 I was behind the lead rider and we were going faster than most of the others, then slowing once in a while. I was slowing more for the bump to the banking, and catching him on the infield. I decided to try squaring off some of the turns to avoid the ground clearance issue. In other words, gas it, hit the brakes hard, get it turned quick, then gas again, a little like an old motocross bike (only a little like).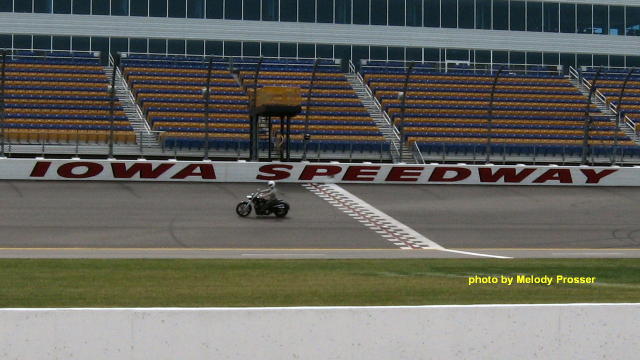 Another fun, interesting bike to ride, but this bike was not made for the track. This should not be a surprise, since none of these bike were made for competing on a racetrack, we were just having fun riding there, and these bikes were just fine for that.
Kingpin
With the exception of the Visions, all the Victory motorcycles were similar except for tire choices, seating, footpeg arrangements, and of course, style. The Kingpin has normal sized tires and footboards instead of footpegs, more passenger friendly seat, and a different style front suspension. I liked the Kingpin from the previous day so picked that next.
The Kingpin was easy to ride, and it could be that I was getting used to the track, but I felt I was going a little faster than the Vision and smoother than the Jackpot. The track was wide enough with everyone going single file that I figured some lines that had me making turns with an apex between the 90° turns and cutting the time I spent leaning. The trickiest part was the turn at the end of the 90 MPH front straight. If I slowed too little, I would bit the bank hard and bounce, a little. I ended up slowing enough to start turning then go up the bank at an angle. Maybe not the fastest way, but I could not resist going up the bank. I did not try to push hard enough to scrape the floorboards.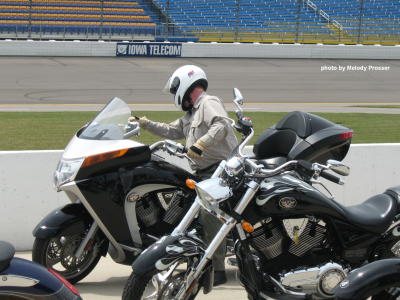 Vegas Low
My family was starting to get tired of just watching me, so I decided to try one more. I picked a bike that had a normal back tire that was different. This one seemed to fit better, I did not have to reach so far for the controls, and it seemed to sit lower. With the more time on the track, I was getting better on the infield, and had to back off to keep from passing someone. After I got off, I asked what kind of bike I was riding. It turned out to be a Vegas Low, with lower seat and pulled back pegs and handlebar. It was a fun bike to ride.
Conclusions
I was impressed by the courage and confidence that Victory showed. Courage to allow strangers to ride their $20K+ motorcycles at speed, and confidence that their bikes would hold up and speak for themselves. I have been in some dealers of other brands where I felt I would have to pay just to sit on their bikes, forget about actually taking them for a test drive. I found the rev limiters on several occasions, scraped a footpeg, hopped the rear wheel on a downshift, once even got into a hint of a wobble when entering the freeway a bit faster than I should, and the bikes felt like it was no big deal. By the way, there were many less confident as well as more aggressive riders than me. I expect that I was far from the hardest on the bikes. Definitely not an average test drive. I am very grateful to Victory. It was so much fun I watched "The Worlds Fastest Indian" DVD again when I got home.
Back to Al's Home page
Back to Al's Motorcycle page
© Alan Prosser 2008. Commercial use of anything copied from here requires written permission.
E-mail
Comments to alprosser19@yahoo.com