Trip to France with Valley HS String Orchestra and A Capella Choir
Back to France trip TOC
Previous page Sunday March 15, 2009
Larger picture version of Monday March 17, 2009
Next page Tuesday March 17, 2009
For Spring break 2009, the Valley High School (from West Des Moines, Iowa) combined String Orchestra and A Capella Choir went on a tour of France including some places in Normandy and Paris. This page documents some observations and photos by one of the chaperons, Al Prosser, and his daughter Ariel.
Monday March 16 2009 - Paris
I took a photo of the breakfast this time. My roommate Tom had coffee and chocolate on top of the standard fare. This day, instead of crème fraise they had yoghurt. It was still good, but now I know the difference. The crème fraise is smoother and not sour. I wonder why it is so hard to find in the US? I emptied the contents of one of the jars of jam into it and stirred and it was good.
I went down early to go to the grocery and discovered that it was only open 9 to 9. I walked around the corner looking for some other place, and found another also opening at 9. Finally, I found a Starbucks that was opening up. I got some decaf but they did not have anything but sweets and carbs out. Outside, there was a water truck hosing off the sidewalks. I went back to the hotel. After a while, I ran into my daughter who complained that I got coffee without her, and she gave me the dreaded quivering lip. So we went back to Starbucks and got her a mocha something. They had some sandwiches with protein out by then, but I just skipped getting some.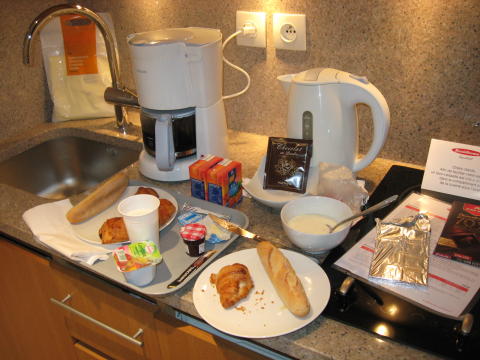 We had to drive around a bit to find somewhere that they could drop us off within a reasonable walk to Notre-Dame. They finally dropped us off in some small side street a couple blocks South of the island. We had a 10 minute walk, the choir in their robes and the rest of us in normal attire. We arrived at about 5 after 10. The concert would be at 11, everyone would need to meet in the courtyard by the statue to be able to leave at 11:45 to go to the Louvre. Only the choir was allowed to perform in Notre-Dame, so the orchestra members were free to watch or shop. I went with my daughter and her friends for some shopping before the concert. I helped translate a little while they bought t-shirts, more scarves, tiny Eiffel Tower keychains and such. I decided that it may be my only chance to hear a concert in Notre-Dame so went back. They had heard the choir many times so they continued shopping.
Notre-Dame
Notre-Dame was very beautiful of course. I only took a few pictures without flash to be respectful. The choir sounded great as usual. Some members reported seeing tears in the eyes of the audience so getting the story from choir members would be best to understand what it was like. I took some video, but it takes mass quantities of space and is not great quality. There were others with special video cameras, so if they put video on you-tube or something I will add a link later. After the concert I met my companions, loaded with treasure and wearing big smiles. There were lots of hungry pigeons around.
At about 11:45 AM, we set off for the Louvre. All 150 of us, following the tour guide with the little flag. The weather was great, not too hot, maybe high 50s or low 60s Fahrenheit and sunny. On the way I saw a rare car, a Citroen 2CV from the 1960s. One of my French teachers in 1970 in Kinshasa had one. I had to get a picture as evidence that they may still be running. After a half an hour, we were at the entrance. We had a few minutes to find a restroom or snack. Some of us had something to eat near Notre-Dame. I finally found a restroom for men that was free, but again part out of order.
Louvre
We gathered under the inverted pyramid at about 12:45 PM. We were sorted into groups with our special guides for the Louvre. We checked all our stuff in a big 1 Meter cube basket and found real restrooms. At near 1:10 we entered the museum. Like at Versailles, trying to drink in all the beauty was like drinking through a firehose. It could easily take a day or even two to see everything, we took an hour and a half to get the sampler version.
We got to see the Mona Lisa. I took a picture of Ariel in the room, but did not try to fight the crowd to get close. One of her friends got a photo with her next to it. I took a picture of another one of Leonardo's paintings, John the Baptist, showing the way. To describe everything we saw would be like asking us to describe everything on the shores of a canoe trip. We were having fun, but paying more attention to what we were doing more than what we were passing.
After a while we made the obligatory stop at Venus de Milo. We went into a gallery of statues. My favorite was a huntress with a quiver of arrows, holding a stag by the horns. I found it more impressive than the nudes. Flowing cloth looks much more delicate to carve than mere smooth skin. We also got to see Hermaphrodite, the person with everything, but did not take a picture. This museum is not for the overly modest or judgemental.
My daughter liked when we visited what was once the moat beneath the original castle. We also saw a model of the original castle. It was about time to go, so we went back to get our checked stuff and meet our bus drivers deep in the parking garage. It was just a few blocks over to the next stop.
La Madeleine
The next concert was my favorite. We arrived at La Madeleine at about 3 PM for our 4 PM concert. This church was a very different design than the others. It had huge columns around the outside, and no side windows. The place was mostly dark, but they had some unusual modern style paintings around. I tried to take pictures early to be less disruptive. The musicians reported that they could finally hear themselves, and I think everyone was in good spirits. I have about a minute of video, but again it takes a lot of space and is not high quality. Again, they had a good crowd and got a standing ovation for the national anthems.
Dinner at Monte Carlo
We were out by 5:30, but that was too early for dinner. We took the buses over to the Monte Carlo restaurant near the Arc de Triomphe. They gave us some free time to explore the Champs Elysees. I went with the usual group Southeast from the Arc. I guess the videos used up my batteries, so was not able to take pictures there. We went in a bunch of fashion and clothing shops. I was looking out for somewhere to get batteries. I found cell phone batteries, but no AAs. We got back to the restaurant at about dusk. I remember enjoying the food, but without a photo reminder, I could not tell what we had.
We got back to our hotel at 8:45 PM. This was great, because it meant I could go to the grocery and get some more cookies, sausage and 250g of Camembert cheese. The poor workers in the store had to lock the doors and let us out as we paid and left. One time, a student came in when someone went out, and said it would be no problem, she was not coming in to buy anything, just to be with her friends while they bought something. She had to leave.
The cheese was stinky and runny and wonderful. After wrapping it in the plastic bag and putting it in the refrigerator, we could still smell it in the hallway. The 250g package cost 2 euro, about 1/3 what it costs in Des Moines. Later, the young people played cards in the lobby again.
Links to other days
If you care more about pictures, click on the picture of the day or the date. If you want to read the descriptions, click on the reference to thumbnail versions. The thumbnails are displayed 1/25 the size.
Where can you contact me?
E-mail